Previous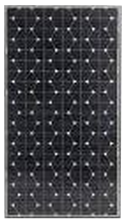 Sanyo:
More than 30 years of experience in solar technology has earned Sanyo a reputation for the highest reliability with their customers. SANYO has been manufacturing solar cells since 1978. The highly successful as well as high performance and long-life HIT Modules have been produced since 1997 for a constantly growing market.

SANYO Photovoltaic Modules are highly efficient and produce more power per square meter than traditional products. This means that you will need fewer modules on your roof to accomplish very high performance.

SANYO Photovoltaic Modules provide many years of reliable operation. SANYO Photovoltaic Modules are based on decades of experience and reference systems worldwide.

Downloads